We want to thank all our frontline heroes from the bottom of our hearts for keeping our community safe during this global pandemic.
We'd love to show our appreciation for all your hard work and commitment hence why we are offering you a 15% discount for your special day valid up until 31/12/2021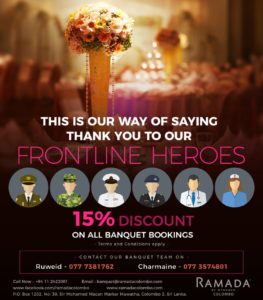 Please contact our Banquets Team
M.A.M. Ruweid (Asst: Food & Beverage/Banquet Manager), Mob : 077 7381762, email : [email protected]
or
Charmaine Rabot (Asst: Sales Manager Banquets & Events), Mob : 077 3574801, email : [email protected]
For all inquiries, custom made packages and future bookings (our Liberty Ballroom can comfortably accommodate 600 pax in its 9000 square feet of luxurious space).