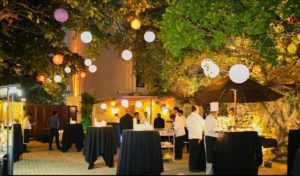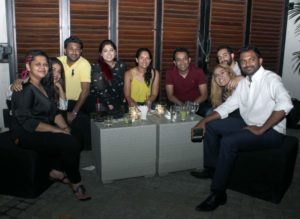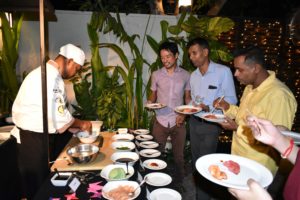 A cocktail party was held on 19th February 2020 at the Secret Garden at Ramada Colombo in order to re launch the hotel's Japanese Menu 'Mizu'. A host of distinguished guests from the Japanese Community, Hospitality, Business and Entertainment Industries were present along with selected media personnel. The event included action stations, several canapé platters of items from the menu and a bar serving customized Japanese themed cocktails and mocktails.
The Japanese word Mizu means water, representing the fluid, flowing and formless things in this world. It is this exact philosophy that Chef Chamila, our head Japanese Chef incorporates into the preparation of his dishes. An ever evolving fusion of flavours derived from traditional Japanese preparations and combined with those of local and international cuisine, is sure to leave you with a truly memorable culinary experience.
Chef Chamila, our talented and vastly experienced head chef for Japanese cuisine, commenced his career in 1998 and has since worked under 5 different Chefs hailing from the homeland of Japan. It was under the tutelage of these vastly experienced Japanese Chefs that Chamila was schooled in the secrets to preparing traditional Japanese sauces and the importance of using high quality ingredients.
Having commenced his career in the Maldives, Chef Chamila has since worked at multiple Japanese restaurants in Dubai including the famous Nobu Restaurant at the Atlantic Hotel and the Le Meridien before moving to the Cipriani in Venice. In 2013 the Cipriani opened its doors in Abu Dhabi, where Chamila was appointed as Sushi Chef.
Upon his return to Sri Lanka, Chef Chamila joined Ramada Colombo and has since been responsible for introducing the revolutionary menu we present to you today. A vast array of dishes including a variety of Starters, Sushi, Sashimi, Maki Rolls, Temaki, Soups and Salads, complement an indulgent range of Mains that feature the popular Chicken Katsu Curry, Katsudon and traditional favourites like Beef, Chicken or Salmon Teriyaki. The succulent Beef Steak is a definite winner, with Imported Beef grilled to perfection and served in a traditional Japanese radish sauce that is sure to delight your taste buds. Completing the menu are the popular Mizu and Kiku Bento Boxes and a range of delicious Teppanyaki including Lobster, Prawns, Snapper, Squid, Scallops and Salmon. 
In addition to our extensive Japanese fusion menu 'Mizu', we have introduced a unique entry to Colombo's 'High Tea Scene' with the advent of our Japanese High Tea. A traditional 3 tiered platter includes a selection of Cold and Hot Japanese Canapes that include Dragon Rolls, Cheese Maki, Okonomiyaki, Chicken Karaage and Japanese breaded prawns. Completing this enticing platter is an array of fusion desserts featuring Wasabi White Chocolate, Ginger Chocolate Ganache, Honey Marzipan and more.
With a plethora of offerings to satisfy even the most ardent Japanese food connoisseur, Ramada Colombo is fast establishing itself as one of the leading players in serving high quality Japanese Fusion Cuisine.