Page - COVID-19 preventive measures taken at Ramada Colombo
As the world adjusts to conducting business in a world suffering from an unprecedented global pandemic, we at Ramada Colombo have implemented multiple practices in safety and sanitization across all sectors of the hotel, in keeping with health and safety guidelines. We trust the following list of implemented measures, will assure you, our valued guest, that Ramada Colombo is a safe option for your next visit to the beautiful city of Colombo.

 Upon entering the hotel
Foot sanitizing mats in place at all entrances to the hotel.
All guests are subject to a temperature screening at the entrance by trained personnel.
If it is detected that a guest has high temperature, they will be kept at an isolated area until a doctor arrives for a medical check.
An initial screening questionnaire is placed at all entries to the hotel.
Hand sanitizers and disinfectants are placed at all entry and exit points, with signage requesting guests to disinfect hands before entry and on a regular basis.
The floor is disinfected on a regular basis.
All guests' luggage are disinfected upon arrival before being taken into the hotel.
Service elevators are used to transport luggage to guest rooms.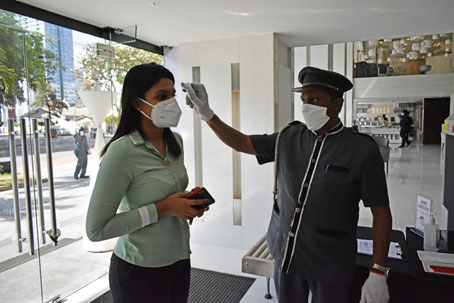 Front office and lobby area
The seating arrangement in the lobby has been rearranged in compliance with social distancing regulations.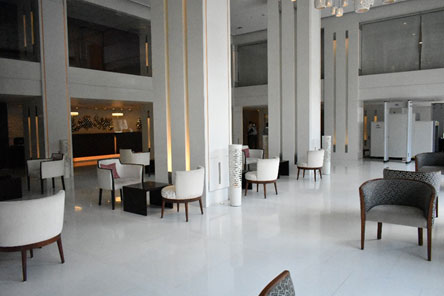 All handles and surfaces such as table tops, workstations and arms of chairs are disinfected soon after they have been used by guests and on a regular basis.
Markers have been placed in front of the reception desk and all counters, maintaining a 1.5 meter distance as a guide for all guests to observe social/personal distancing.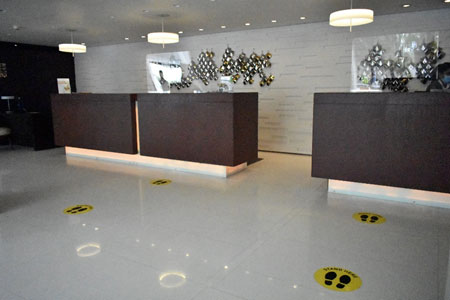 All staff members wear face masks and disposable gloves.
No guest will be allowed entry to the hotel without a face mask. Guests without a face mask will be offered one. We encourage guests to wear a face mask at all times while they are in public areas.
Additional information on guest's travel history and future travel plans will be gathered along with the registration card upon check in.
We encourage hand sanitization after every exchange of money, credit cards and any other goods. Our cashiers always wear disposable gloves and sanitize their hands and work space on regular basis.
A hot traditional herbal drink will be served upon arrival.
Glass shields have been installed at the reception counter.
Telephone and all sharable instruments are disinfected on a regular basis after use.
Dedicated pens and pencils are in place and are disinfected after every use.
All room key cards will be sanitized upon giving and return to reception.
A maximum of only 4 people will be allowed in an elevator at any given time.
Disinfection of elevator surfaces are carried out regularly.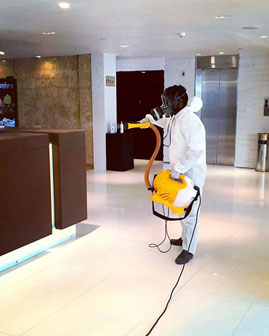 Guest Rooms
A deep cleaning of the entire room will be conducted prior to check in and after every checkout.
  All surfaces within the room along with portable devices will be disinfected before every check-in.
Recommended disinfectants are used to disinfect all surfaces including TV, Safe Deposit Lockers, Mini Fridge and Mirrors.
Strict measures have been implemented to assure hygienic linen.
Used linen will be removed in a sealed bag.
All surfaces in the washroom, including door handles, water taps, towel rack, cistern handles, seat and cover flap will be disinfected after cleaning is completed.
A room will only be allocated to a guest 72 hours after the previous occupant has checked out.
Preventive measures and new SOPs are in place in rooms for the convenience of guests.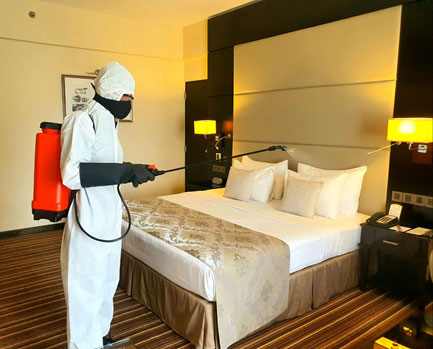 Public Washrooms
Frequently touched areas such as door handles, water taps, door, cistern handles, seats and cover flaps, wash basin, door knobs, buttons and switches are disinfected regularly.
Hand sanitizers placed outside wash rooms.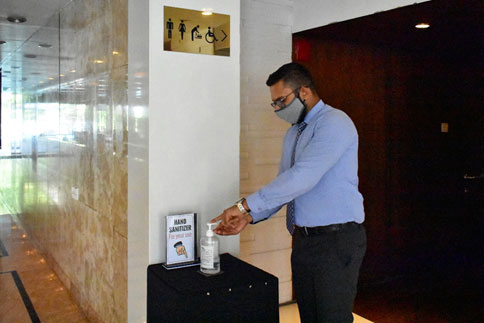 Restaurants
All table tops, chairs and service stations are disinfected regularly.
All staff will wear a face mask and disposable gloves when servicing guests.
All staff to maintain social/personal distance while serving the guest.
Hand sanitizers placed at all entry points to the restaurants.
Table cloths, cutlery and mats disinfected after each use.
Restaurant seating arrangements re-aligned in compliance with social distancing guidelines.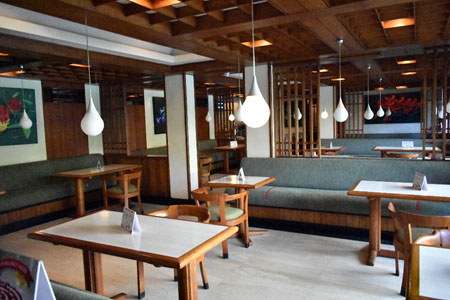 Pepper and salt shakers will be offered on request.
Menu cards and bill folders will be sanitized before and immediately after use, with all bills presented in a sanitized bill folder along with pens that are also sanitized immediately before and after use.
All buffet services have been halted and only A'la carte will be available.
All cutlery, crockery and utensils used for room service are sanitized immediately before and after use.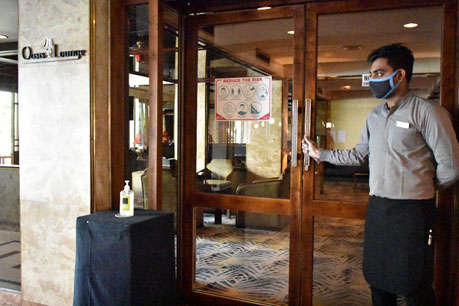 Swimming Pool
The swimming pool will be accessible between 6am and 7pm for in-house guests only.
Changing room and wash rooms are cleaned and disinfected regularly along with all surface.
All furniture on the surrounding deck area are cleaned and disinfected after every use.
Life guard will have a record of all pool users.
Clean disinfected towels will be stored in a closed container and will be issued with minimum handling.
A proper shower is compulsory before entering the pool, with the shower area disinfected on a regular basis.
Pool attendants will wear a face mask and disposable gloves while serving guests.
Gym
The Tone, our Gym facility is now open complying with Covid-19 preventive measures.
Maximum 10 attendees allowed at once.
In-house guests will be offered with towels while the gym members are instructed to bring in their own towels.
Bring in your own pair of shoes separately to use inside the gym.
Tone members are required to place prior appointment.
All equipment will be cleaned & disinfected after every use before re-use.
Common Area
Regular cleaning procedures to continue following disinfecting of surfaces with recommended disinfectants. These include floors, walls, table tops, chairs and countertops.
Bar
Ice machines, beverage chilling equipment's' & containers will be thoroughly cleaned and disinfected before use.
All surfaces including table tops, bar counter, pool table and chairs will be cleaned and disinfected before the bar opens and after each use.
All food brought into the bar from the kitchen will be covered until it is served to the guest.
Seating arrangements made according to social distancing guidelines.
Guests will be served drinks only at their tables and not over the bar counter.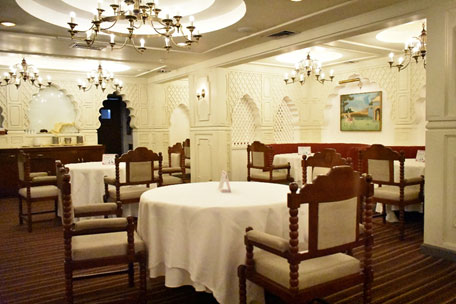 Kitchen
Thorough cleaning and disinfecting of all work surfaces, equipment, floors and walls are carried out on a daily basis.
The proper functionality and ideal rinse temperatures of dish and glass washers are checked regularly and kept in records.
Cooked food is stored at the correct temperature at all times.
The cleaning and sanitization of work surfaces and equipment are carried out after each operation and during downtime as the Gardenia kitchen operates on a 24 hour basis.
We ensure that washed cutlery and crockery are disinfected after each operation, in order to ensure cross contamination is prevented, all washed cutlery, crockery and glasses will be stored and transported in closed containers.
Only kitchen staff will be permitted in the kitchen and cooking areas.
All staff are provided with suitable protective uniforms and essential equipment.
Hand sanitizers placed in each section of the kitchen.
All pots, pans and other utensils are cleaned and sanitized at the end of each day
To minimise food handling we practice a pan to plate concept in the kitchen.
All dispatched food items are released with a sneeze guard and placed on food heaters.
As a HACCP certified hotel, all HACCP standards are met and practiced.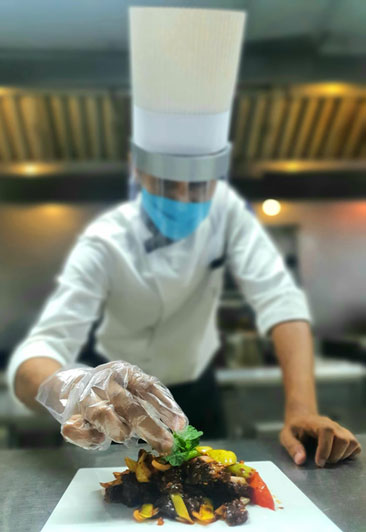 Hotel Taxi
All drivers are subject to regular PCR tests.
All vehicles are completely disinfected after every use.
Outdoor Area
Surface cleaning and spraying of disinfectants are carried out on a regular basis using recommended disinfectants.
All out-door areas including smoking zones and spaces for functions are disinfected regularly.