Are you a believer in a boring Sunday? We guessed right! After all the rush week and Saturday nights, Sunday strikes as that bad reminder of a going-back-to-work-Monday. You know what? 
Sunday Chill O'Clock is a fine remedy for you to chill with your beloveds with good music and great food to make up your mind for a positive Sunday and a bearable Monday.
Chill O'Clock will happen on the first Sunday (7th) of this beautiful March at the Secret Garden of Ramada Colombo. Your entertainer for the evening will be FREEZE, who will be bringing all the chills with a little retro music. They'll be playing your all-time favorites from the Beatles, Queen to Bee Gees, and much more. The tickets are priced at only LKR 1500, and LKR 500 can be redeemed for food and beverages. You can drop us a message online or call our hotline to reserve your tickets, or you can get them at the event entrance. 
The evening is filled with special offers for cocktails and spirits. Spoiler Alert!!! We'll introduce a signature cocktail that'll help you get your groove on just fine. There will be a specially curated Ala Carte menu, and the food stations for the evening are coming with delicious Chicken Karaage, Tempura Prawn, and Kottu. 
It's Chill O' CLock! And nothing is keeping you from slow dancing with your partner, playing a little beer game with your friends, and requesting songs from our song menu. The Secret Garden at Ramada will be accompanying your chills with a vibe of its own from 4 in the evening to 8 at night. Be there on 7th March to enjoy this Sunday evening. Believe us when we say that you won't notice the sun going down 'cause Ramada together with FREEZE will steal all your senses with Chill O'Clock.
Call to reserve your tickets now:
F&B Hotline :- +94 76 6645507 / +94 11 4794399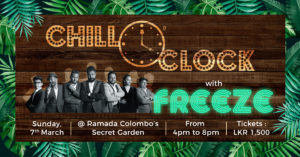 https://fb.me/e/jvSahdap5