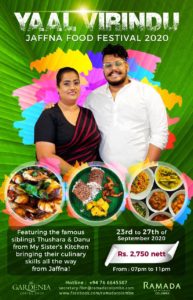 Signatory Jaffna food festival "YAAL VIRINDU" will take place on the 23rd , 24th, 25th, 26th and the 27th of September 2020 at Ramada Colombo.
This year the YAAL VIRINDU Jaffna food festival is being held in partnership with Thushara Innasithamby and Danu Innasithamby, who are from Jaffna originally with Thushara bringing in her grandmothers traditional recipes passed down to her through generations.
YAAL VIRUNDU is a long established tradition as Ramada Colombo was the first to introduce the authentic Jaffna flavours in Colombo. This annual tradition has been taking place at Ramada Colombo for 18 years.
It has been a massive success throughout the years and has brought tremendous exposure and awareness to Jaffna cuisine here in Colombo.
All the fresh produce are locally purchased and all spices are brought directly from Jaffna to our kitchen to create this beautiful authentic buffet spread priced at Rs. 2750/- net per person.
A few items the buffet will include; Odiyal Kool (prepared in a traditional manner by the pool) served with fried ash plantains, Suara Varai, Nandu Varuval, Fried fish with mango pickle dip & Nelli crush payasam.
The ambiance exudes a traditional Jaffna feel including traditional local music and palm trees all the way from up North.