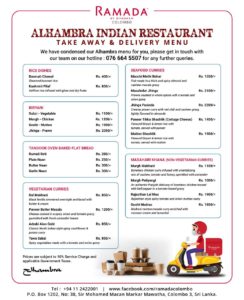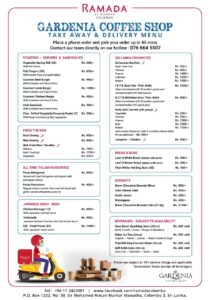 As Sri Lanka, along with the rest of the world attempts to ride out the Corona Pandemic, we at Ramada Colombo have taken it upon ourselves to brave the prevailing conditions and serve the isolated people of Colombo confined to their homes, by offering delivery as well as take away options on selected items from our Alhambra and Gardenia Coffee Shop menus with dishes ranging from North Indian, International, Japanese & local cuisine.
We undertake delivery to Colombo 1-13, Mount Lavinia, Dehiwela, Rajagiriya, Nugegoda, Kohuwela and Nawala between 11am to 9.30pm daily. 
While accepting cash, card & online payments, we promote an efficient yet contact less delivery & pick up process observing all recommended health and safety guidelines. 
Our sole aim is to provide access to high quality meals to our fellow Sri Lankans and their families during this period where they are safe and sound indoors in the comfort of their homes, trusting that together we shall overcome the challenges currently facing our country.
Started a of March 2020 – ongoing.